2020年1月9日~2月15日
会場:ケビンモリスギャラリー(ニューヨーク)
展示風景
http://www.cavinmorris.com/blog/2020/2/12/painting-the-japanese-blues-introducing-issei-nishimura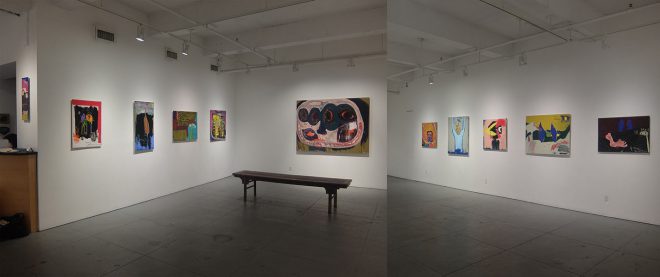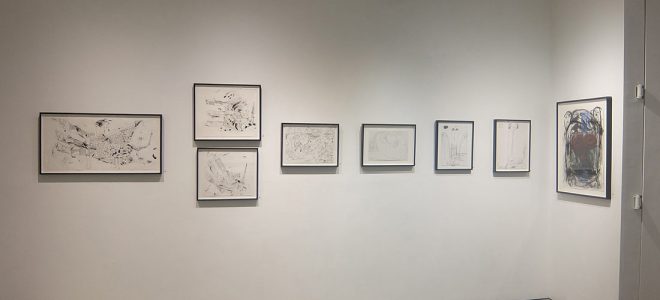 Painting the Japanese Blues: Introducing Issei Nishimura
(January 9 – February 15, 2020)
Issei Nishimura has a number of obsessions but these three are the most important: the blues, his cats, and making drawings and paintings. Obsession might be too mild a word for the passion and time this prolific artist puts into artmaking. There is a beautiful chaos in his work that is held together by the consistencies in his wild style including off kilter, sometimes cartoon like, sometimes purely beautiful pictorial associations, and the wild colors that blend in such a way as to create new juxtapositions of tonalities much the way a blues note flattens and bends and extends the possibilities of meaning and emotion in the original note.
Edward Madrid Gómez said in Hyperallergic in (12/09) 2017: "For Nishimura, who was a guitar player before turning to drawing and painting, makes art inspired by and steeped in the blues. If ever that music- so redolent of yearning, loss, soulfulness, and psychic pain- were to find visual expression, here in Nishimura's art, perhaps most unexpectedly, it has."
He goes on to say "Nishimura was born in 1978 in Nagoya, Japan. In Nagoya, I also met the artist's father, Usao, who recalled that, as a child, Issei enjoyed making drawings. Years later, after moving to Tokyo to study music, he began having a hard time fitting into society and started to withdraw. Soon his artmaking assumed a central urgent place in his life, and, before long, he committed his energy full time to producing drawings and paintings. He moved back home to Nagoya, where he resides today, reclusively, in a close-knit family setting. Issei loves and still plays his music, and he enjoys the companionship of his cats, but he rarely ventures out. To date, he has not seen any of the group or solo exhibitions in which his works have been publicly displayed."
We are proud to present the first American solo exhibition of Issei Nishimura that will include a rich combination of his paintings, drawings and notebooks. We will also feature his work at the 2020 Outsider Art Fair.
For additional information please contact info@cavinmorris.com or call us at 212-226-3768.